Jerry Banfield's PLR Video Courses Bundle
Feb 16, 2021
Would you like to start your own e-learning website, but don't have the time or knowledge to film video courses by yourself? Jerry Banfield has the solution with his PLR video courses bundle.
 
Jerry Banfield's PLR Video Courses Bundle
If you would like to start your own e-Learning school, then Jerry Banfield has you covered with his PLR video courses bundle containing 161 courses ready to be published on your own website.
What is PLR? What can you do?
Private Label Rights or PLR is a kind of license that allows you to use the content as is, modify it, put your name on it and resell it at any price you see fit. PLR licenses generaly have these same basic rights, but all PLR licenses are not equal and the terms written in the licence define what you can and cannot do with the content.
What can you do with a Jerry Banfield PLR license?
This is what you can do with a Private Label Rights license for all video courses by Jerry Banfield:
Every video course may be sold separately or bundled with other products. It can be a bonus for another product.
Every video course can be added to paid membership sites. You can add bonuses to the video course to help get sales.
Every video course can be sold as a physical product and it can be sold as a digital product.
You may put your own name on the sales page and rename the video course.
You may edit the video course and use the source material to create new video courses. You may use the name Jerry Banfield when selling the course.
Every video course can be translated into other languages and it can be used to build a list.
Every video course can be added to free membership sites and it can be given away for free. It can also be used for YouTube or other free video sites.

This is what you cannot do:
All video courses cannot be used or sold on Udemy, Skillshare, Uthena, or other course platforms you don't own.
You cannot offer Resale Rights, Master Resale Rights, or Private Label Rights.
Read the full PLR license here
The Jerry Banfield PLR video course license is allowing even more than other PLR video course on the market as you can use the videos on YouTube or give them away for free.
The main restriction is that you can't upload the video courses on Udemy, Skillshare, Stackskills or any marketplace and website you do not own.
How to use the Jerry Banfield PLR video courses?
The PLR license enables you to use the video course in multitude ways and these are some ideas.
Sell the PLR video courses in your own e-Learning school
If you already have your own e-Learning school, then this bundle will add a great deal of courses to it. You don't have to do any edit, just upload the videos, use the course image provided and you are on your way to many sales. You can use a course platform like Thinkific, Teachable, Podia or a WordPress website. 
Edit the PLR video courses and sell them rebranded
You can edit all the videos as you wish like adding an intro or outro. You can combine videos or split them. You can combine courses together to make a mega course. You can add your branding, URL and logo on the videos. One thing that you can't do is remove the instructor's face from the videos. There are a number of videos that Jerry Banfield did not teach, but produced, and those do not have the instructor on screen. After you are done with your edits and rebranding, then you are ready to sell them on your website. 
Add the PLR videos to your own courses
If you are an instructor, you can use the PLR videos as additional sections or lectures in your own courses. They can be bonus lectures as well.
Give the PLR video courses as Bonus courses
If you already have courses of your own or other products that you sell online, then you can offer the PLR video courses as bonuses. This will be a good incentive for buyers to buy your products.
Upload the PLR video courses on YouTube for traffic
Combine the PLR video courses to make long previews. You can rebrand with an intro and outro, a presentation by yourself to match your channel theme and topic. In the description, you can then sell the full course on your website, or another course or product of your own. 
And more...
You can also put the PLR video courses on a DVD to sell them offline, you can translate the courses and subtitle them in your language, which opens new markets.
How do you access the Jerry Banfield PLR video courses?
After you purchase the bundle you are asked to fill a form, so we can be notified immediately and start preparing your order. This is important because we need to know what name/company name and email we have to put on your PLR license. You will have access to the courses on Uthena immediately and access to the DropBox within 12-24 hours.
All video courses on DropBox have been recently re-organized and what you will see first when you log in Drop Box is each course in their folder named after the title of the course.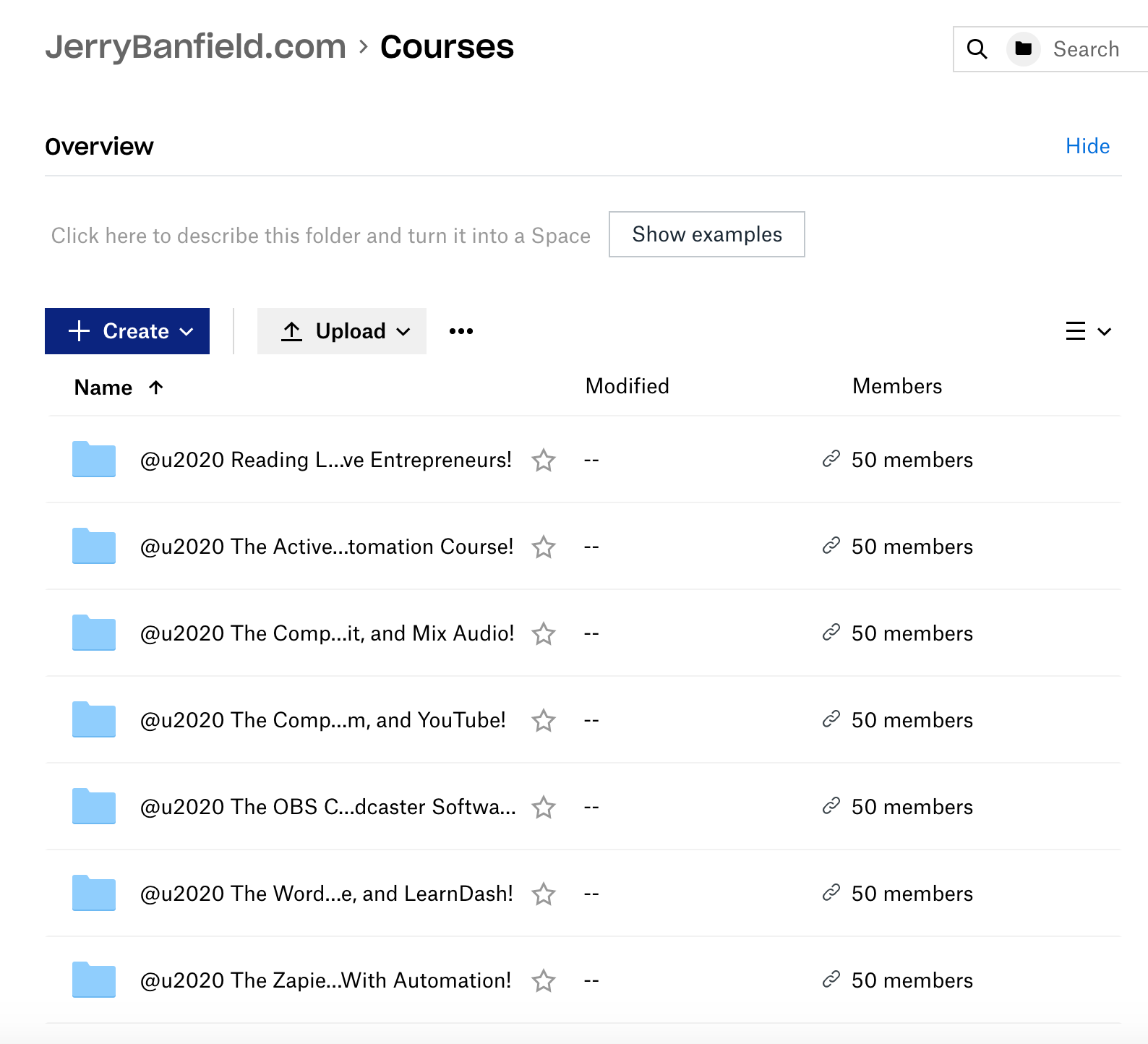 When you click on one of the courses you will have sections with their titles, and a course thumbnail.
Clicking a folder will show you all numbered lectures in that section.
You have lifetime access to the DropBox, so you can download each course as you need them.
What courses are included in the PLR video course bundle?
There is a total of 161 video courses at this time and you can see a list of all of them here:
https://airtable.com/shrcEfg3291EmzAwc
The Jerry Banfield PLR Course Bundle's sale page will also show you all the 161 courses available in this bundle. Courses that do not have Jerry Banfield's photo are courses produced by him, but taught by an expert instructor.
If you would like to purchase the Jerry Banfield PLR course bundle, visit this page:
https://uthena.com/bundles/jerrybanfield
We hope that this is helpful.
Michel Gerard
Uthena.com